Atlantic City's New Resorts Casino Hotel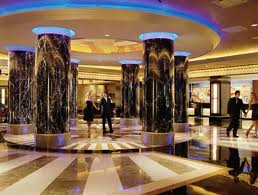 Just off the midpoint of the Jersey shoreline, Atlantic City has been a tourist magnet since the eighteen hundreds. During The Prohibition and the Great Depression, Atlantic City was the center for rum-running, packed with speakeasies known today as bars and illegal gambling lairs. Shortly after these life changing events, with competition from Florida, it skidded into a great decline itself. It wasn't until city officials opened up the crumbling city to legal gambling that things turned around. Today, there are various casinos, casino resorts, and hotels bringing tourists in. One such resort is the New Resorts Casino Hotel.
Bejeweled in vibrant art décor, Resorts very own flappers are waiting to serve you your favorite drinks and give all the fun you can handle while you stay. With The Prohibition over, economy booming, and casino fun legalized, the only thing left is to stay at the Resorts and get in on all the sizzling action. From casinos and night clubs to spas and delectable food, you are sure to enjoy every minute at this 1920s themed resort.
Delve into the world of spas and fitness where you can escape from the everyday stresses into a revitalizing massage or tranquil sauna. Enjoy whirlpools galore or a nice hot steam room. Let your mind wander into a haven of picturesque views of the sparkling blue ocean as the sun's rays permeate through it. Or, workout those abs for the pool in an extensive wait training session right in the fitness room. Who says vacation means being lazy?
Savor the graceful atmosphere and relish in the exquisite cuisines at the many fine dining restaurants throughout the hotel. If you love a good steak, visit Gallagher's Steak House which was the first to serve the world-famous "New York Strip", and of course the only place that has perfected it. Or, if you're in the mood for a little Italian cooking, Capriccios' all new menu is sure to curb any appetite. Enjoy your dinner while overlooking the strikingly beautiful sea; sunset dinners make for a great romantic time.
If you're in the mood to party dude, Boogie Nights is the Extreme 70's and 80's Dance Club featuring DJ's, live entertainment and so much more. 25 Hours is the perfect place to meet up with friends, and have hopping good time; whether day or night this place is the place to be. Of course, there is the casino open 24 hours per day with more than two thousand slot machines and hundred thousand square feet of gaming fun.
The only alteration at Resorts from the 1920's is now they are completely out of hiding! The party never stops at Resorts. Whether you're sipping on a martini at Torch or dancing the night away at Boogie Nights you are sure to find something fun for everyone!