Experience the Excitement of Trump Taj Mahal Atlantic City
As one of the newest casino hotels in the area, Trump Taj Mahal Atlantic City offers luxurious suites, fine dining, exceptional live entertainment, an exciting casino floor and superb shopping and easy access to Atlantic City. As part of the Trump line of resort casinos, you can expect only the best throughout the resort. From the breathtaking ocean views to the fabulous dining options available, Taj Mahal Atlantic City offers an experience you will never forget.
First-Class Accommodations and Amenities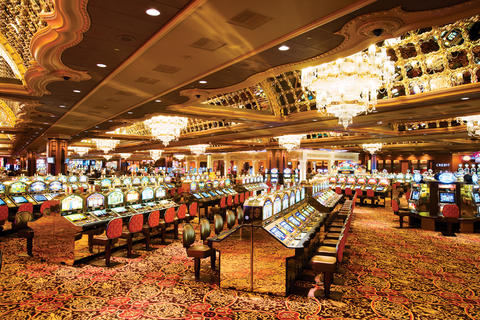 Whether you are vacationing on a budget or looking for world-class luxury and pampering, Taj Mahal Atlantic City has suites and amenities to impress any taste. From the elegant Taj Tower rooms to the regal penthouse suites, you are sure to find accommodations to your liking. Taj Mahal Atlantic City offers spa, fitness and salon services for a relaxing retreat and to keep you looking your best throughout your stay.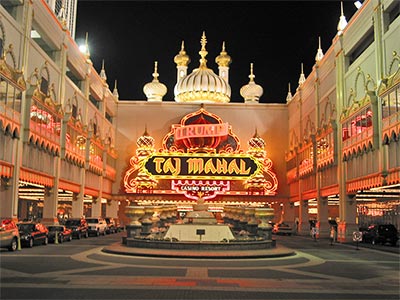 Fun and Excitement on the Casino Floor
With over 3500 slot machines and 200 table games from which to choose, there is something to keep you coming back for more on the casino floor at Taj Mahal Atlantic City. You can spend your vacation playing away in comfort and ambiance that only Donald Trump himself could imagine. The splendor and excitement of the Taj Mahal Atlantic City casino has awarded it "Best Casino" from Casino Player Magazine and secured its place as the home of the United States Poker Championship.
Fabulous Food and Fun
With 22 different eateries available at Taj Mahal Atlantic City, there is always something enticing and exciting to eat. Five-star offerings include Il Mulino New York, Safari Steakhouse, Dynasty and Moon at Dynasty. From traditional Italian fare to exotic sushi and cocktails, there is something at Taj Mahal Atlantic City for everyone. Entertainment options are equally diverse with the Rainforest Lounge, Casbah Club, Ego Bar and Lounge and two showrooms featuring world-famous live entertainment. Many of Atlantic City's other dining attractions and entertainment options are within walking distance of the resort as well.
Shop Until You Drop
Of course, Taj Mahal Atlantic City just would not fit in without exceptional shopping opportunities. Shops are located both inside the resort and within walking distance for your convenience and shopping pleasure. The resort's beachside location puts you just steps from Tanger Outlet's The Walk and the shops of the Atlantic City Boardwalk. Should you have a question about local destinations, Taj Mahal Atlantic City offers concierge services to show you where to go.